I got a tutor to FINALLY speak conversational Tagalog
But whenever I come across with a post on social in Tagalog, things are starting to click in my head because I understood the conjugated verbs and connectors 🥳
Disclaimer: Some of the links below may be affiliate links which I will earn a small commission if you click and purchase from them.
As a 2nd generation Filipino-American, I am definitely one of the lucky few that knew a lot about my culture growing up.
My family had TFC in the living room.
My mom cooked Filipino dishes like pancit or adobo.
And every Sunday after attending church, my family would go to Woodside, or now known as Little Manila, to eat lunch at Krystal's which I remember always ordering either chicken mami or their siopao.
Then after that, we would go to this small and Filipino-owned video rental store to pick up movies for the week. While my parents picked up the latest Filipino movies, I tended to pick up whatever Pokemon VHS they had at the time.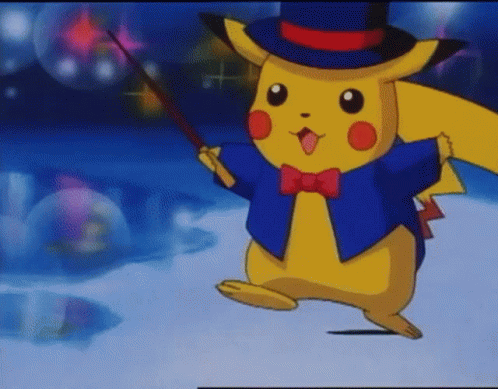 Looking back, I am grateful to the exposure of all these little things that influenced my identity.
I never questioned being Filipino or wanting to be more American because I knew I was both.
I had a few classmates from elementary to high school who were Filipino, so we basically could relate to one other. So I never felt alone or singled out in school.
However, the one thing now as an adult I did wish my family did more often was having more conversational Tagalog.
At least, I am able to listen and understand what my family was talking about and I can even translate to my non-Tagalog speaking friends. However, I've always struggled responding back and could only respond in Taglish (Tagalog-English).
Now at 33 years old, I'm still struggling to respond back in Tagalog.
However, one of my goals this year is to finally be more comfortable in conversational Tagalog.
Introducing: Italki
One of my streamer friends, SeeKaySee, introduced me to this website called, italki.com. She mentioned in a social post that she's been seeing a tutor so that she can learn Tagalog since she barely knew the language growing up.
I've kept that website in the back of my mind, but it wasn't until I had dinner with an old college friend, and he finally convinced me to do it because he is also using italki. He isn't taking Tagalog lessons but Ilocano which is the dialect his family speaks in.
So I finally bit the bullet in the next few days and found the perfect tutor for me.
What is italki?
Before I chat about my experience, italki.com is a website where you can find a tutor to whichever language you want to learn. Usually the tutors are certified teachers and some are community members who are knowledgeable in the language.
And most of the time, they're native speakers of that country.
The website is pretty easy to navigate as you can easily search the language you're looking to learn. From there you can easily see their rates, how many classes they've completed, and an introduction video so you'll get a glimpse of the teacher and the expectations you'll get from them.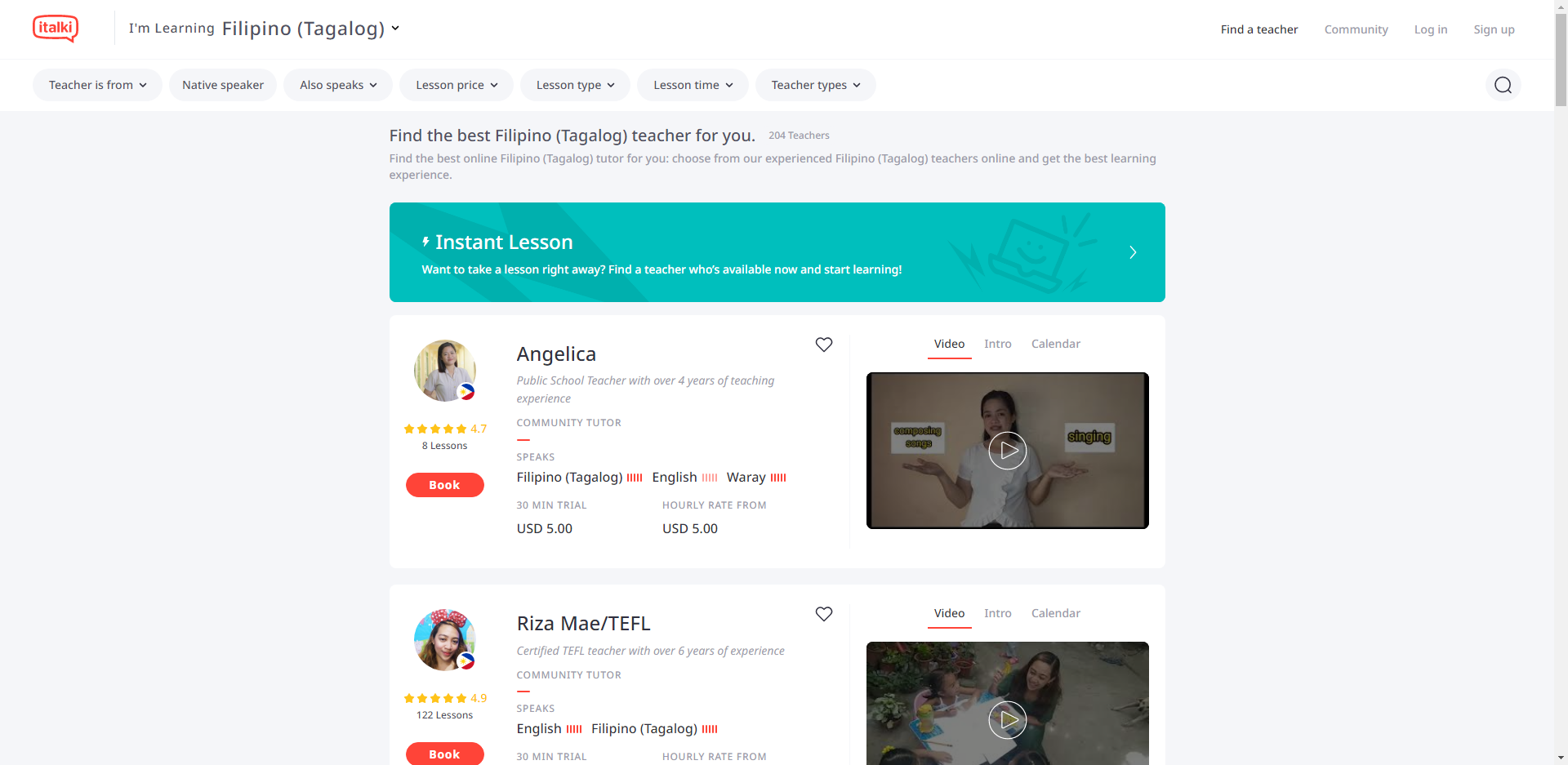 After browsing and watching a few intro videos, I've selected Chris or Ate Chris as my Tagalog tutor. I picked her because after watching her introduction video, she had the most natural way of speaking Tagalog to me and it didn't feel like I was in a classroom to me.
Ate Chris has been an amazing teacher so far and it feels like I'm having a casual conversation with a friend which is exactly her style.
Plus she's super patient with me and she has mentioned that it's nice pace that she can speak in Tagalog, and I can understand most of what she's saying when she's teaching me.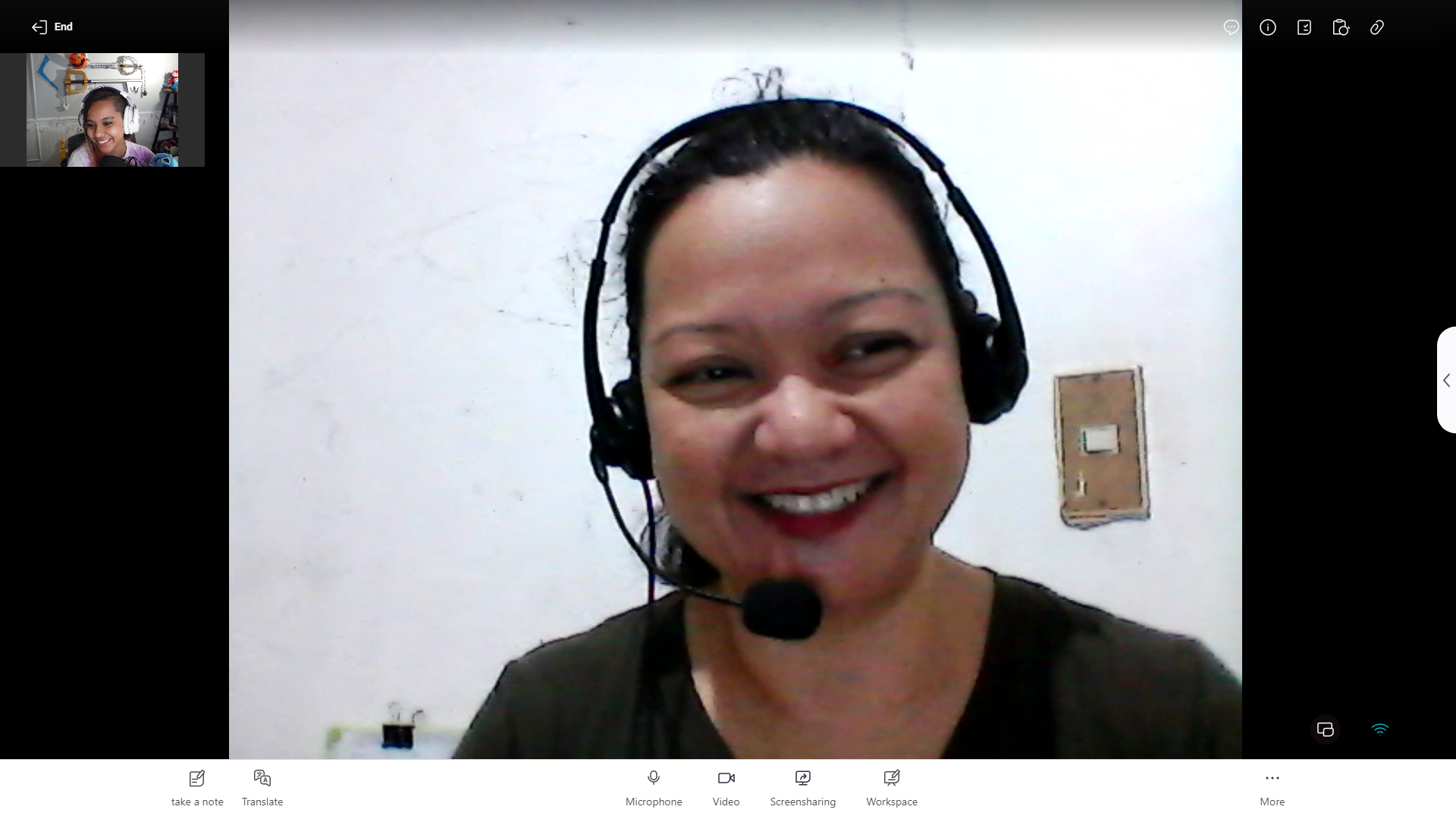 My progress so far
It's been a little over 2 months and we've reviewed some vocabulary words, I learned about connectors, and how to form simple sentences. But now we're getting into the harder part of conversational Tagalog:
Forming sentences in their past, present, and future forms. And conjugating them.
(I HATED CONJUGATING VERBS IN HIGH SCHOOL SPANISH)
Give me a vocabulary test, I can basically ace it. However, once we get into sentence forming, that's when I start struggling.
This week's lesson, she assigned me homework to practice with and I'm already feeling the pressure because I hate making mistakes.
I hate that feeling where you feel dumb because you don't understand the lesson or the assignment.
But I know that's part of the learning process.
In the upcoming weeks, I want to share my thoughts and struggles when it comes to language learning, because as someone who has ADHD, sometimes when that focus becomes too hard, I start to lose interest.
And I don't want that to happen.
This is my family's native language, and I'm getting to a point in my life that I want to make sure that I get to pass this language to my future children.
I don't want them to struggle like I did growing up plus it's important to know our root culture and have an appreciation of it.
So I hope that one day, I will get to write a blog post in Tagalog or at least a couple of sentences thrown in here and there when I'm writing about my culture.
Feeling a little bit more confident
Each week after taking my class with Ate Chris, I feel a little bit more confident in my progress.
I do need to start reviewing and writing more of it so I can retain my new lessons. But whenever I come across with a post on social in Tagalog, things are starting to click in my head because I understood the conjugated verbs and connectors 🥳
So if you've wanted to learn a new language and need a tutor to help you along the way, I highly recommend using italki.com to get you in that right direction.
Sige, at salamat!
---
Follow me on my socials!