Fibroid Resources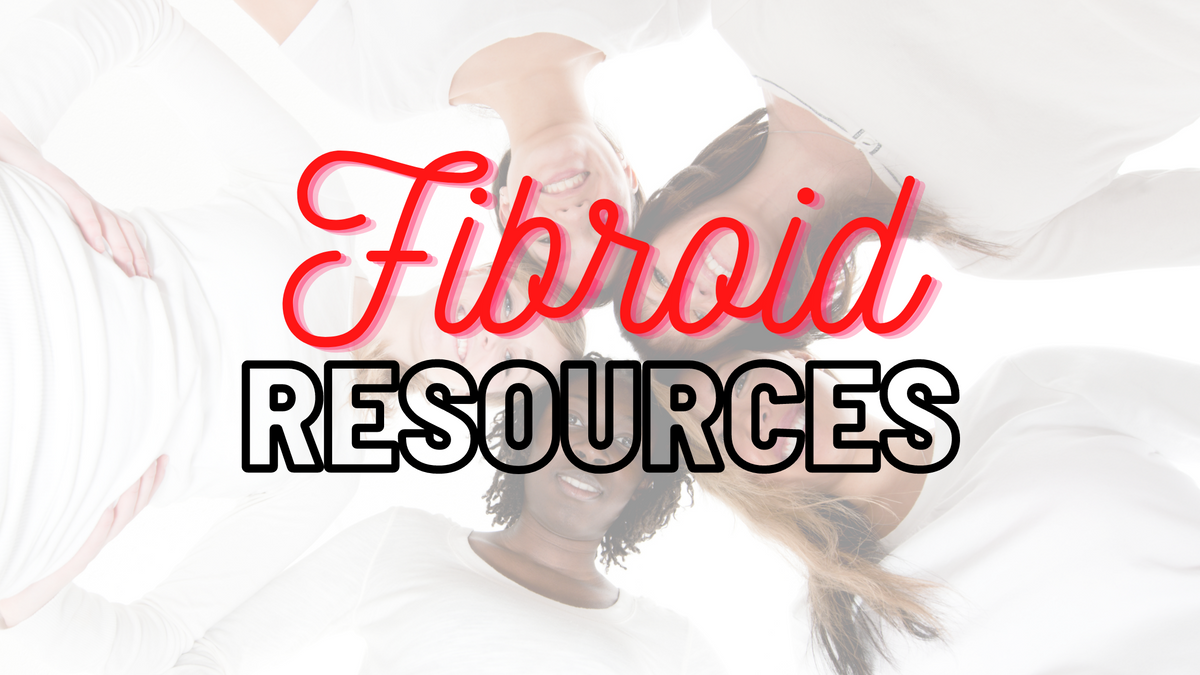 If you're here from reading my Instagram, or my vlog about my personal experience with fibroids, thank you so much for your support. Below you can educate, donate, and support others in need suffering with fibroids.
Thank you again.
Fibroid Nonprofits and Education websites
The White Dress Project
The White Dress Project provides support, education, and hope for people living with uterine fibroids.
https://www.thewhitedressproject.org/
(They started the #whyIwearwhite and the #wecanwearwhite social media movement to share women's stories suffering with fibroids.)
USA Fibroid Centers
We are a national network of fibroid centers specializing in Uterine Fibroid Embolization (UFE). Our acclaimed interventional radiologists are passionate about alleviating their patients' fibroid symptoms for good. UFE is effective, FDA-approved, and no hospital stay is required.
https://www.usafibroidcenters.com/
The Fibroid Foundation
We're here to foster a supportive community where informed women* have proactive conversations regarding their care and healing. Here you can connect with trusted providers in medical and holistic treatment, learn how to address a uterine fibroid diagnosis, understand what treatment options exist and receive support from our amazing community every step of the way.
https://www.fibroidfoundation.org/
Donate: https://www.flipcause.com/secure/cause_pdetails/MTE3NDMx
GoFundMe's for Fibroid Surgery
Below are five GoFundMe's that I randomly selected that need help with their surgeries. If you want to find and help with more women, here is the link: https://www.gofundme.com/s?q=fibroid
These ladies could be your mother, aunt, cousin, niece, or any woman in your life that could be suffering.
Help Candy Have Fibroid Surgery
https://www.gofundme.com/f/help-candy-have-fibroid-surgery?qid=7d481170bcd27dad80ec806b95e874ec
In March, my husband rushed me to the hospital when my hemoglobin dropped to a 5.2, almost 7 points below the normal 12-15 range. I had to receive a transfusion and was diagnosed with anemia caused by uterine fibroids. Despite changes to diet and lifestyle, these fibroids have continued to grow rapidly, causing my chronic bleeding to become worse than ever. If left unchecked, these fibroids threaten my fertility and the bleeding threatens my life.
Zareka's Hysterectomy&Fibroid sugery Recovery fund
https://www.gofundme.com/f/zarekas-historectomyandfibroid-recovery-fund?qid=12106edab8000fe20ef39412553ececb
She Has Been Dealing With Her Fibriods for About almost five years now. she's had so many complications and hospitals visits from these fibroids she nad had since my dad, her husband passed away in feb 2017. it has been in some cases where she couldnt even get out of bed in the mornig without my assistance.
Tram Dao Emergency Fibroid Surgery ( myomectomy)
https://www.gofundme.com/f/tram-dao-emergency-fibroid-surgery-myomectomy?qid=7d002747181a70284ff7d1497f719344
Couple days ago she had severe abdominal pain and went to get an ultrasound and blood test and the fibroid is getting big and she needs it remove as soon as possible. Her family is also in financial hardship and will not be able to afford this surgery fee.
Help my mom, Elena, get the surgery she needs.
https://www.gofundme.com/f/tmbrgz-help-my-mom-get-the-surgery-she-needs?qid=bde745832e9f2f893cffc867c256554a
For the past three years my mom has suffered a great deal due to her having ovarian cysts and fibroids ( tumors that develop in a woman's uterus). Without medical insurance, she has paid out of pocket for countless doctor consultations, emergency room visits and medication over the past three years.
Help Samson Fund His Wife's Surgeries!
https://www.gofundme.com/f/help-samson-fund-his-wifes-surgeries?qid=0b8024c2a6a481c21c538525f3e96c59
Samson is one of the people I had the great pleasure of becoming friends with during my time in Kenya a few summers ago. Over this past year, his family has really struggled to financially cover the costs of his wife's medical expenses due to the lockdown Kenya is experiencing. She has mast fibroids, which have been causing her to bleed profusely. Because of this, she needs a blood transfusion and a surgery to remove the fibroids.